Now that it's the beginning of a new year, Business Management International (BMI) will receive many support calls requesting assistance on the process of closing the year-end. This is not a difficult process, but because it's only performed once a year it's easy to forget.
Before running the fiscal year-end closing process you will want to tie out your G/L to various sub-ledger reports within Navision. Below is a suggested list of functions to perform.
Ensure all Purchase/Sales Order receipts/shipments have been posted

Ensure all Purchase/Sales Invoices related have been posted

Run Periodic Activity | Adjust Cost-Item Entries

Run Periodic Activity | Post Inventory Cost to G/L

Run Inventory to G/L Reconcile Report (inventory invoice accruals)

Reconcile Inventory to G/L and calculate Accrual Entries

Calculate Depreciation for Fixed Assets

Run AP to GL Reconcile Report (non-inventory accruals)

Enter all Cash Receipts

Run Aged Accounts Payables and Aged Accounts Receivables

Reconcile Aged A/P and Aged A/R to General Ledger

Perform a Bank Reconciliation

Enter any Accrual, Reversing, Recurring General Journals (such as: Depreciation, Payroll, Accrued A/P and A/R)

Run Financial Account Schedules
Once these items have been performed and your end of the year numbers tie out you are ready to process the year end closing.
Closing Accounting Periods:
When the fiscal year is over, you must close the periods. Once closed, you cannot open or change the periods.
Select Financial Management, General Ledger, Periodic Activities, Fiscal
Year, Accounting Periods

Click Close Year
You will then get a message to confirm what periods you are closing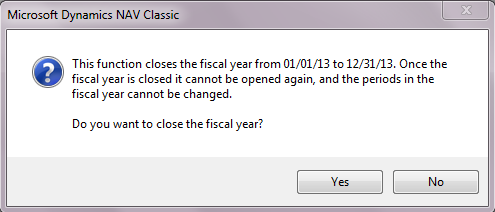 Click YES to close the year
You will notice that a check has been placed in the Closed and Date Locked fields of the Account Periods window.
Close Income Statement Accounts
Select Financial Management, General Ledger, Periodic Activities, Fiscal Year, Close Income Statement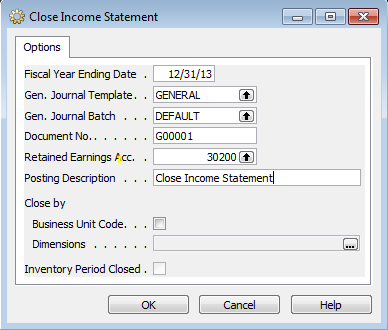 Fill in the appropriate information then click OK. This function will calculate the balance at the end of the year for all Income Statement G/L Accounts and create a journal entry in the Template and Batch you specified. You will then need to go to the journal and post the closing entries.