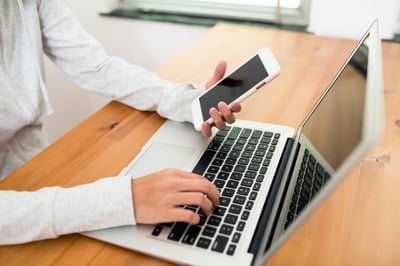 I recently ordered a medical product from Amazon. I ordered it at 10 am and received it the same day at 4 pm for no additional shipping charge. Now, that is service! (Granted, I was a Prime member and pay $99 per year for free shipping on all items I buy, but I use it enough that it is worth it to me to have what I want in my hands quickly).
As an independent distributor, it may be difficult to compete with that level of service, but there are many ways you can endear yourself to customers. Finding out what is important to your customers is the first step to delivering a buying experience that brings them back for more.
Customers won't buy it if they can't find it - Your Search function should be on steroids.
Customers want to type in logical words and have it return what they are looking for. Sometimes they are not logical, so you need to think about how they would type words in a search with spelling errors.
Allow them to filter with a variety of attributes like brand, size, color, etc.
Make it easy for your customers to mark favorite items and come back later to order.
Offer suggested additional items, "customers who bought this also bought…" to make sure they are not forgetting something.
As a distributor, you should be able to control "first in search" e-commerce product placement to encourage purchases of products that you make the most margin on.
Display products you want to feature to prompt them to order something they may not even be thinking about.
It should be easy to find out what search terms your customers are entering on your e-commerce site so that you can drive profitable and appropriate products to the top of the search results page in order to better match what your customers are asking for.
Customers want a wide selection of products. The opportunity to integrate with Master Wholesalers' advanced content keeps your product offering diverse, whether you are a stocking distributor or not. If you offer Avery Labels, offer all sizes available. Maybe the label order is a small part of a much larger order, so don't drive them somewhere else that has a better variety in stock.
Customers want to pay the way they want to pay. It is proven that every barrier you put in the way of a customer doing business with you will work. For example, If they want to pay with AMEX, don't tell them you only take Visa. If it is too hard to manage the fees and maintenance of AMEX, then offer an app like PayPal or something like it. The point is that there are many retail online stores they can go to who give them those options. Break down those barriers and let your customers in.
Customers love Discounts and Promos unless they are inaccurate. Integration with your ERP system including finance, sales, procurement, and inventory is essential. You can do more business and avoid inevitable errors if you eliminate manual changes between your eCommerce site and your back office operations. One minor mistake in pricing could hurt your business and credibility.
Customers get mad when you deliver the wrong item - in fact, you just might drive them away. Good warehouse processes start with a robust, comprehensive software platform that connects your operations. If you are running on an old, clunky software platform that you constantly patch with band-aids to keep your business afloat, it will be difficult to compete with companies that offer modern integrated technology.
Additionally, put processes in place to get the outcomes you want. I heard from an analyst who visited a leading distributor's warehouse to interview the shipping team as part of a study of their operations. There was one employee who was literally running to grab stock, pop it in a box and ship it out. He didn't have time to stop and talk. Finally, they asked, "Why are you moving so fast?" The answer, "I get 25 cents bonus for each correctly shipped order. The more orders I ship with no errors, the more I make."
What issues matter to your online customers? Please comment below to continue the conversation.
Business Management International (BMI) is dedicated to bringing business technology to independent distributors to help them compete. We're not afraid to offer radically great customer service and proudly offer Microsoft Dynamics NAV to solve real world business problems. www.bmiusa.com and www.bmiusa.com/bmi-software.