Ninety Years and Counting for IL Dealer Garvey's Office Products
(Reprinted with permission from the Independent Dealer e-zine)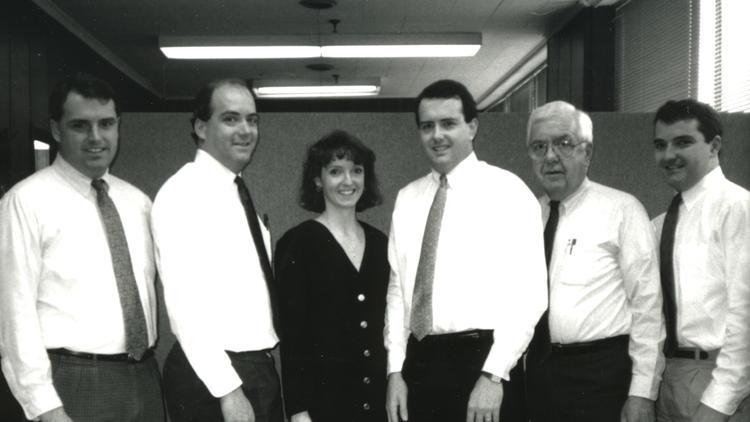 The Garvey family (from left to right): Kevin Garvey, Bernie Garvey Jr., Sheila Gartland, Ken Garvey, Bernie Garvey Sr. and Dan Garvey.
It was champagne time in Niles, Illinois last month, as Bernie Garvey and his team at Garvey's Office Products celebrated their 90th year of service to the Chicago-area business community.
The dealership was founded in 1926 as Schiller & Schmidt by two printing sales reps. In 1954, Bernard Garvey, Sr. came on board as a sales rep and 12 years later, he bought the company.
Fast forward to today and Garvey's is a thriving $40 million business, with some 90 employees operating out of an 85,000 sq. ft. distribution center in Niles and a product mix that covers the full spectrum of office needs from office supplies and furniture to breakroom supplies, document finishing, promotional products and more.
The company today is in the safe hands of the second generation of the Garvey family, with Bernie serving as president; one brother, Ken, running inside sales and larger accounts; two other brothers, Kevin and Dan, in outside sales, and sister, Sheila Gartland, handling marketing and IT.
The dealership has been enjoying a good year so far, Bernie reports, with furniture sales particularly strong and new business coming from a number of larger accounts that had previously been in the hands of big box competitors.
Our congratulations to the Garvey family and the entire Garvey team. Here's to the next 90 years!
Garvey's uses BMI OP Revelation Software to run their dealership. Click here to learn more about BMI Software.