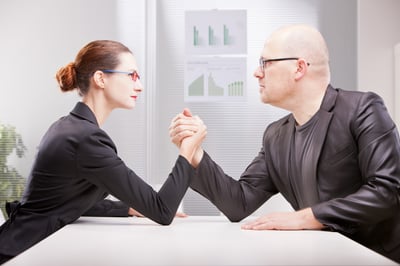 I talked to an independent distributor the other day, and he let me know what a tough time he had competing with big box etailers and retailers' huge discounts and wide-ranging product offerings. So he changed his approach.
He makes it easy for consumers to do business with him by automating the ordering and sales process. He offers free shipping, a generous return policy, and as a small, agile business, he can broaden his ecommerce channels through social media and flash sales.
Studies show that the social network quadruples a retailer's message online. Not only that, but friends who share good deals with their friends have the credibility that no big box company can match.
Here are some action items to take if you want to win against the power channel:
Compete by offering free shipping or free upgrades to shipping. Multiple shipping options are a mighty conversion tool. You can make your customers happy by letting them know they are getting a great deal. Emphasize the pain they feel when they buy an item elsewhere and then end up paying $100 in shipping charges.
Don't even try to compete on price - you won't win against the big box retailers. However, you will win if you offer a customer experience that they can't resist. Be personal, use their names in correspondence. Use buying history to offer more of what they want. "Dear Sue, we noticed last month you ordered some computer paper, and we'd hate to see you run out right before a big presentation. Just fill out the form below, and we will have your order on the way with Bob, our delivery driver, who knows exactly where to deliver it. Big box stores will have a hard time duplicating the level of service you can offer. They are concentrating on a volume play. You can win with your attention to detail. How many times have you walked into a big box store and were ignored by three workers with no more knowledge than you?
A strong online presence is essential to attract new customers. Get the word out and the sales in your carts by creating an easy-to-use eCommerce site. Your goal is to make it easy to buy and easy to return so they will buy again.
Sell value, not price. I once had a dry cleaner who was further away than other local dry cleaners. However, that didn't stop me from driving across town to bring my business to them. Why? Because they were smart enough to send me weekly tips about how to care for different fabrics. A big snowstorm hit our region, and they sent me an email with a list of fabrics NOT to wear in the snow so they wouldn't be damaged. Not only did they share their expertise, but I learned to trust that they would know how to handle my clothes.
Define your niche and beat the pants off Amazon. Look at a company like GoPro. Yes, you could order it on Amazon, but if you are a fan of GoPro you want to buy from GoPro where all those geeky experts live. With 3.5 million followers there is a reason they have a loyal base. Their top-notch customer service beats Amazon because they know the answers to your questions.
Be radical. Make a deal with a popular pizza restaurant and offer your office product customers free pizza with every 5th order. Alternatively, send Starbucks cards when they reach a certain dollar value in orders. The folks who place those orders will remember you as they enjoy a pizza lunch or coffee the next day and they'll come back for more.
What are some of the ways you compete with the big box companies?
Please comment below; we'd love to hear your story.
Business Management International (BMI) is dedicated to bringing business technology to independent distributors to help them compete. We're not afraid to offer radically great customer service and proudly offer Microsoft Dynamics NAV to solve real world business problems. www.bmiusa.com.